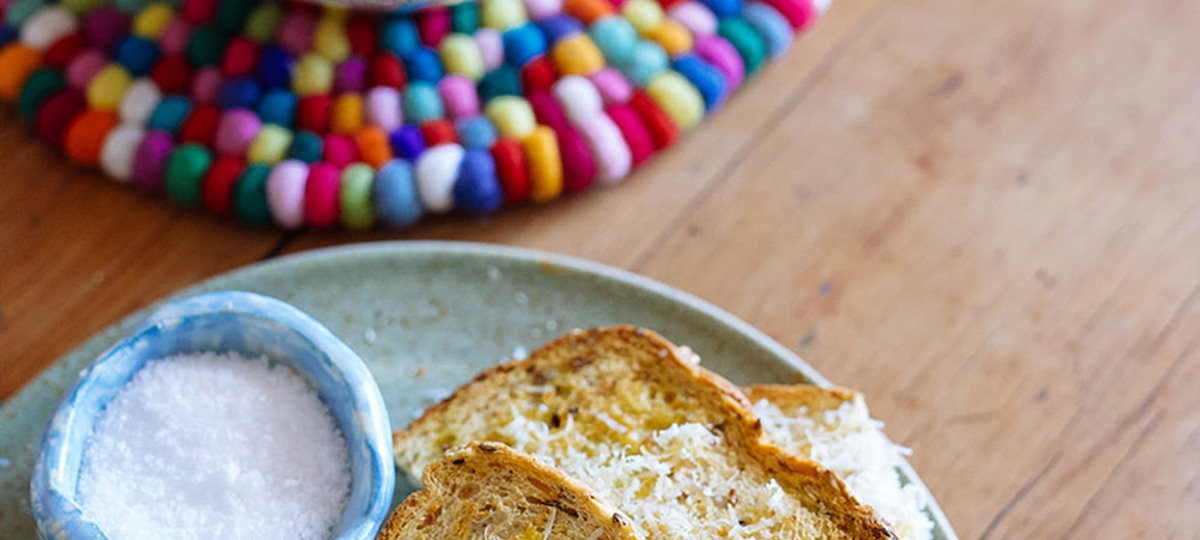 Tomato and capsicum soup with garlic parmesan toasts
Serves 4
Prep time: 20 mins
Cook time: mins
This bright, big-flavoured soup is perfect to serve, as we've done here with garlic and parmesan toasts. But we also love taking it out on picnics in a thermos to serve with bread toasted over the fire. Either way, it delivers big, bright flavours and best of all, it uses pretty much all pantry ingredients, so is easy to throw together on the leanest of days/nights.
Ingredients
1/3 cup olive oil
1 brown onion, roughly chopped
2 roasted red capsicums (the ready-roasted one in a jar), halved, seeded and roughly chopped
4 garlic cloves, roughly chopped
2 Tbsp thyme leaves
1/4 cup tomato paste (concentrated purée)
800g tin whole peeled tomatoes
2 cups (500 ml) stock
1 tsp red wine vinegar
1 Tsp brown sugar
For the garlic parmesan toasts
6 slices Boundary Road Mixed Grain bread
4 Tbsp olive oil
2 garlic cloves
1/2 cup freshly grated parmesan cheese
Method
Heat the olive oil in a large saucepan over medium heat. Cook the onion for about 5 minutes or until translucent. Add the capsicum, garlic and thyme and cook, stirring often for another 5 minutes.
Add the tomato paste, tinned tomatoes, stock and red wine vinegar and season with salt and pepper. Stir well and bring to the boil, then reduce the heat and simmer for about 30 minutes. Remove from the heat and cool slightly.
Transfer the soup to a blender and blitz until smooth. Check the flavour to balance the acidity of the tomatoes, and perhaps a little more salt.
For the toasts, preheat oven to 180C. Place the bread on a baking tray and pop in the oven for 10 minutes or until hardened up and lightly golden. Remove from oven, rub with the olive oil, garlic cloves and sprinkle with the cheese. Return to the oven for another 10 minutes or until the cheese is mostly melted and everything is lovely and golden.
Serve soup with a sprinkle of parsley and the parmesan toasts.