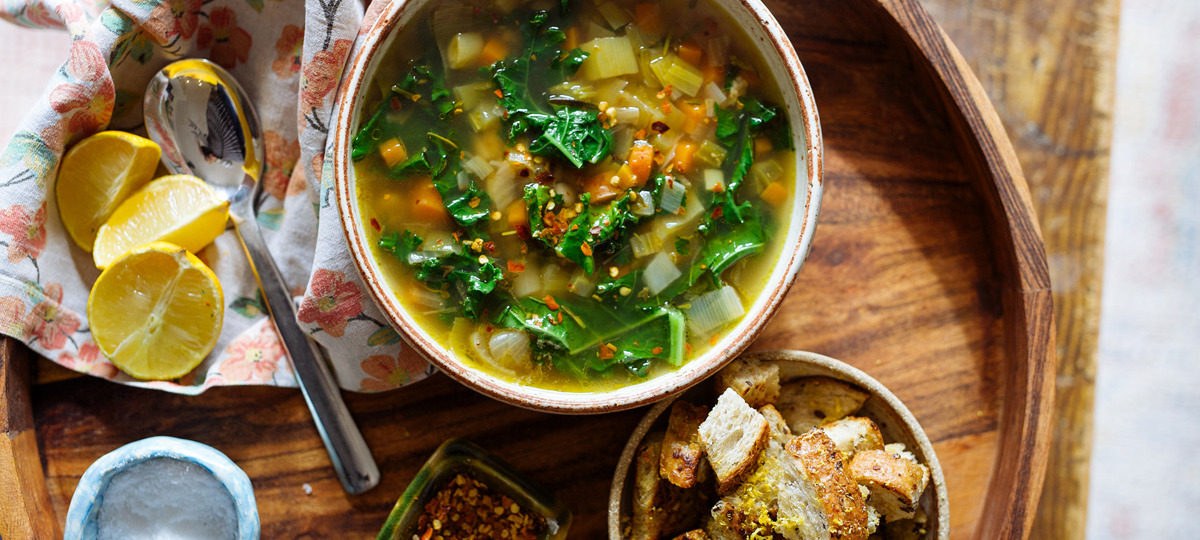 Ribollita Soup with large toasted croutons
This simple, rustic but very delicious soup is hearty enough to be a main meal but is also great in a thermos for a picnic or served in small bowls as a starter. The golden, crunchy croutons add texture, flavour and deliciousness.
Prep time: 20 mins
Cook time: 1 hour
Serves 6
Ingredients
1/4 cup olive oil, plus extra for drizzling
2 leeks, white and pale green parts only, cut into 1 cm rounds
2 garlic cloves, finely chopped
1 stalk celery, finely chopped
2 small-medium carrots, finely chopped
1/2 tsp freshly ground black pepper
1 parmesan rind (if you have it handy!)
1 tsp sea salt
2 cups tinned cannellini beans, drained and rinsed
1 litre chicken stock (or water if you prefer)
2 cups kale leaves, roughly chopped, stems removed
Method
Pour the oil into a large saucepan and place over medium heat. Add the leek, garlic, celery and carrots and cook, stirring often, for about 15 minutes or until the vegetables are soft and translucent. Add the parmesan rind, salt, beans and stock (or water). Bring to a simmer, then reduce the heat and cook for about 1 hour.
Meanwhile for the croutons, cut your bread into small cubes (about 2-3cm squares). Heat the oil in a frying pan and chuck in your bread squares. Cook, stirring often, for a couple of minutes or until they are crunchy and golden brown. Remove from heat and sprinkle with the lemon zest.
Just before serving, add kale to your soup and stir so it wilts and just cooks down.
Serve in deep bowls with an extra drizzle of olive oil, a squeeze of the lemon and the croutons piled on top at the last minute.