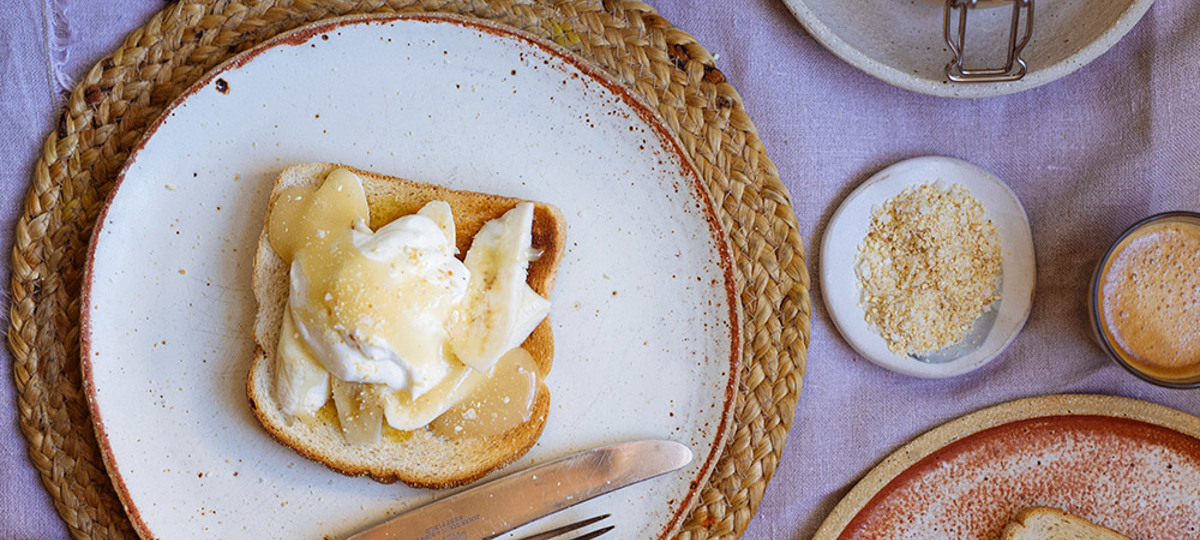 Breakfast bruschetta - banana, yogurt, toasted sesame and honey
Healthy, delicious, easy and a little bit fancy - this breakfast 'bruschetta' is a winner! The salty sesame sprinkle on top really balances all that sweetness and the rye Boundary Road bread holds it all up beautifully.
Ingredients
Prep time 10 mins
Serves 4
1/4 cup sesame seeds, toasted till golden
1 tbsp sea salt
4 slices Boundary Road Light Rye
2 tbsp unsalted butter, softened
2 bananas, thickly sliced
1/2 cup natural yogurt
Runny honey, to taste
Method
First make the sesame salt. Toast the sesame seeds in a dry frying pan over medium heat until they turn golden (watch them right at the end as they burn quickly!). Remove from heat and add the sea salt and mix. Keep in an airtight container (this recipe makes more than you'll need right now but it's so good on everything you'll be glad for a little extra).
Toast the bread until golden. While still warm, spread with a very little butter then top with the sliced bananas, a dollop of yogurt, a good sprinkle of the sesame salt and honey to taste.
Serve with strong coffee and the Saturday papers!